Access Storage - Stittsville
126 Willowlea Rd, Stittsville, ON
1ST 4 WEEKS FREE *
Photos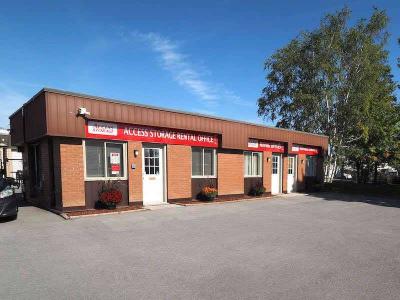 Hours
Office Hours

| | |
| --- | --- |
| Mon-Fri | 9:00am to 5:00pm |
| Sat-Sun | closed |
Access Hours

| | |
| --- | --- |
| Mon-Sun | 24 hours |
About Access Storage - Stittsville
We are Ottawa's #1 storage company and have the metal to back it up, winning numerous service awards such as the Consumers Choice Award for the best storage company. No matter what your Stittsville storage needs or how long you will be renting, Access storage on Willowlea Rd in Stittsville is the perfect storage solution.

Most of our facilities offer 1st 4 WEEKS FREE or FREE MOVE IN VAN. Call now for details!
Features
Climate Control
Free Moving Truck
Drive-up Access
24/7 Security Monitoring
24 Hour Access
Parcel Delivery Acceptance
Drive-in Loading Bay
Packing Supplies
Dollies & Carts Available
Payment Options
Vehicle Storage
Hours
Office Hours

| | |
| --- | --- |
| Mon-Fri | 9:00am to 5:00pm |
| Sat-Sun | closed |
Access Hours

| | |
| --- | --- |
| Mon-Sun | 24 hours |
Facility Reviews
---
Cindy at the front desk has always been impeccable! Her service outstanding, she always answered any and all questions without compromise. She was the best. The occasional staff replacements were just as courteous and excellent. The locker itself was perfect and I have no complaints about it at all. I always appreciated the furnished palettes to protect my items from any possible water leakage, which never happened. The pricing has become outrageous and the restricted hours of access to your personal property is outrageous. I would recommend them as they Do deliver for safe and secure storage but with the caveat that the cost is very high. In addition to the above, after paying for one week's storage, someone decided to charge my card the difference of the monthly cost. I had already refused automatic payments and so this was completely unauthorized. When I contacted Cindy about it, she was once again courteous and quick to action. I am awaiting the return of the charge but expect no further issues. I never had an issue of any sort with the service or the locker itself, but the cost is just unacceptable now.
---
Great friendly and helpful staff, always there to help with anything that may come up! Cindy was a joy to deal with! Facility itself was clean and well maintained though definitely showing its age. Would still be renting from them but the prices increased twice in 5 months I was there.
---
Cindy, who oversees this location anticipated every question I had as a first-time storage unit renter. I also very much appreciated the cleanliness and overall great maintenance of the facility, not to mention having a live person on site. Keep that up.
---
I rented a smaller unit for 4 months during the 4 weeks free trail, super simple to set up, quick access to getting help and online payment options. Pricing is fair and would use again if I need to!
---
Cindy has been nothing but helpful! Unit was clean and accessible. Was never overcharged for payment. Would totally recommend!