Access Storage - Ottawa East (Satellite)
1430 Youville Dr, Orleans, ON
1ST 4 WEEKS FREE *
Photos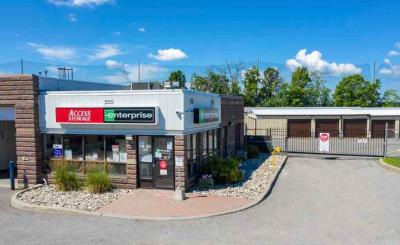 Hours
Office Hours

| | |
| --- | --- |
| Monday 9:00am | to 5:00pm |
| Tuesday 9:00am | to 5:00pm |
| Wednesday 9:00am | to 5:00pm |
| Thursday 9:00am | to 5:00pm |
| Friday 9:00am | to 5:00pm |
| Saturday 9:00am | to 5:00pm |
Access Hours

| | |
| --- | --- |
| Mon-Sun | 24 hours |
About Access Storage - Ottawa East (Satellite)
We are Canada's  #1 storage company and have the metal to back it up, winning numerous service awards such as the Consumers Choice Award for the best storage company. No matter what your storage needs or how long you will be renting, Access is the perfect storage solution. 

Most of our facilities offer 1st 4 WEEKS FREE or FREE MOVE IN VAN. Call now for details!
Features
Climate Control
Free Moving Truck
Drive-up Access
24/7 Security Monitoring
24 Hour Access
Parcel Delivery Acceptance
Drive-in Loading Bay
Packing Supplies
Dollies & Carts Available
Payment Options
Vehicle Storage
"Self Serve" Kiosk
Hours
Office Hours

| | |
| --- | --- |
| Monday 9:00am | to 5:00pm |
| Tuesday 9:00am | to 5:00pm |
| Wednesday 9:00am | to 5:00pm |
| Thursday 9:00am | to 5:00pm |
| Friday 9:00am | to 5:00pm |
| Saturday 9:00am | to 5:00pm |
Access Hours

| | |
| --- | --- |
| Mon-Sun | 24 hours |
Facility Reviews
---
First time going in to the locker I had an issue with the access code at the gate, however it was resolved very quicky buy a customer service agent then a manager. I very much appreciated friendly and promt service.
---
Update - After a very nice call from the Regional Manager, my one off bad experience has been addressed and I'm once again, a very satisfied customer!
---
Honestly quite disappointed with this facility. We signed up being informed that we could be paying for our rental and cash and then they took that away without notice making it difficult to pay on time. Having to pay extra fees most months was quite frustrating or getting someone else to pay online for us making it a hassle. They also operate on a 28-day schedule not a monthly schedule so your payment date changes every month. Very inconvenient, and they charge extra fees after only being 3 days late with the payment. For the price they are charging it is quite reasonable to think that not everybody has that money on hand every single day of the month and that people might need to wait until the end of the week when they get paid. Especially in these trying times. This is really just a way for them to take more money from hard-working people. Then after being with them for a year the price went up and we did not receive a email or a letter saying that it would go up and that is unacceptable. Prices go up annually that is fine but it is not fine to not inform your clientele. The price for a small storage room outdoors without climate control is now almost as much as at dymon storage and there's are bigger with climate control. Would 10 out of 10 not recommend this facility. They used to be much better managed before access storage bought it. Such a shame.
---
I have had very good experience with the storage management and the site. The storage was very clean, exellent shape, accessible all the time I needed to use and match my requirements. I will recomend to anybody who wants to have well manage and great location storage to consider the access storage at Youville. I would like to thank the storage management for their help and excellent customer service.
---
Staff is amazing here. You're able to get things done very easily and get the units you need. They really seem to care and they take their time to make sure you understand everything. Shout out to Luana and Bill for making sure we had an amazing experience at this Access Storage.